Summary
The University of Leeds is among the largest educational and research institutes in the UK, with a 92 QS world ranking in 2022
It offers more than 300 undergraduate and 200 postgraduate programs and many Diploma & Research courses
The University of Leeds offers scholarships, bursaries, student loans, and extra financial help to domestic and international students
Students in India who want to pursue education abroad mostly prefer countries like Australia, the UK, the US, and Canada. As per Google searches, the United Kingdom is the most preferred study abroad destination for Indian students. There are many renowned institutes in the UK known for their academic and research excellence. One such popular public university is the University of Leeds. In the blog, we discuss in detail the University of Leeds Scholarship.
The University of Leeds is among the best higher education institutes in the UK, established in 1904 and located in Leeds, West Yorkshire, England. It has around 39,000 students with around 9,000 international students from 170 different countries across the world. It offers full-time or part-time undergraduate, postgraduate, diploma, and doctorate courses to students. Also, the university offers accommodation facilities to international students. It also has state-of-the-art teaching spaces, laboratories, libraries, and research and sports facilities.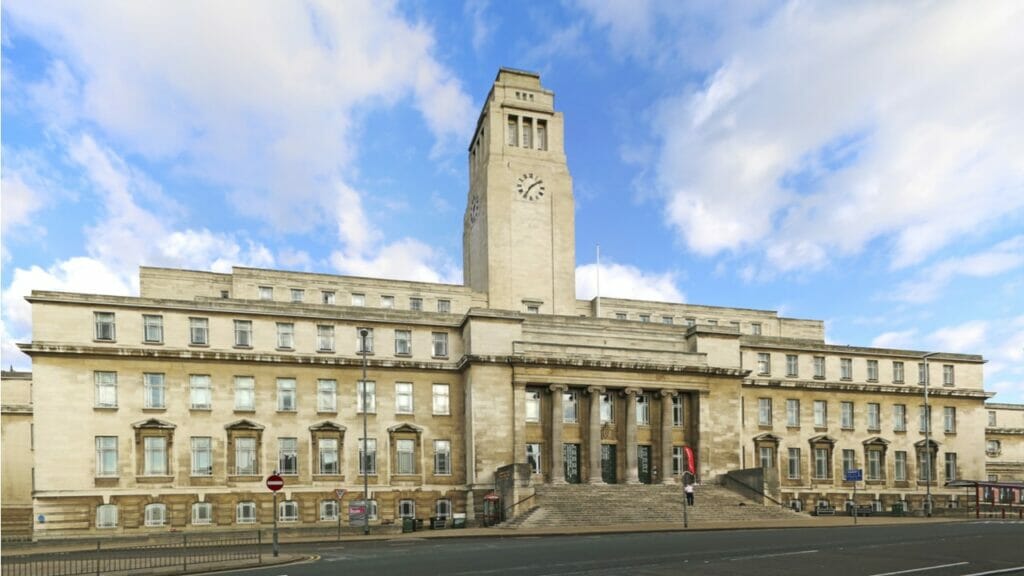 University of Leeds: Highlights
Wide range of Alumni Network
Leeds has a global network of around 270,000 alumni from 190 countries, including 6 Nobel laureates.
There are around 2350 funded and non-funded research opportunities leading to research degrees. The university is a member of the renowned research-intensive Russell Group.
It has the largest single-campus accommodation facility in the UK, with 22 residence halls at the university.
The deadline to fill out the application form to get into the Leeds University is-
Semester 1 (September): Applicants from Europe (or EU) must apply by 30 April and from the rest of the world by 31 March.
Semester 2 (January): All applicants must apply by 31 October.
Applicants must submit the following documents with the application form, either via email or post:
High school transcripts with a GPA of more than 3.0
Visa details
Passport
CV
Letter of recommendations
English languages proficiency scores like IELTS or TOEFL
Students get placements in companies like Accenture, Volkswagen, Toyota, Unilever, BMW, Apple, IBM, Deloitte, Johnson & Johnson, Sony, Hilton, Rolls Royce, and Nestle.
The average annual salaries of the students who graduated from the University of Leeds range up to 85,000 GBP per annum.
Top Universities Accepting SAT Score
University of Leeds: Rankings
QS World University Ranking, 2022: 92
QS Graduate Employability Ranking 2022: 51
Courses Available at University of Leeds
The university offers online, part-time, and full-time courses to students worldwide. It also offers more than 300 undergraduate and 200 postgraduate programs and many Diploma and research courses across seven faculties. The major fields of study include Business, Engineering, Environment, Medicine, Humanities, and Social Sciences.
Fees Structure & Living Expenses
Although the fee varies as per the course, the student is applying for. It also depends on whether the course is full-time, part-time, or online. The average tuition fees at the University of Leeds are 17,000-26,000 GBP or around Rs 7.4 to Rs 26.7 lakh per year. The average living expenses are around 7,000 GBP per year.
To help international students with their expenses, the University of Leeds offers scholarships, grants, bursaries, student loans, and extra financial help. The university also offers internships and fellowship programs to the students enrolled in master's or doctorate level courses.
University Of Leeds Scholarship & Financial Aids
The University of Leeds provides funding to domestic as well as international students. Here are the ways for an international student to get the needed financial help:
Scholarships
There are several scholarships available for students in undergraduate degree and postgraduate degree courses. Here is the list of University of Leeds Scholarship options available for international students-
The University Of Leed Scholarship Based on Academic Excellence
There is a range of scholarship options available for the UK and international students in their bachelor's and master's degree courses.
For Undergraduate Courses: The following University of Leeds Scholarship are available for full-time students in undergraduate courses –
1. Subject-wise Scholarships: the University of Leeds Scholarship are also available for students excellent in a particular subject, such as
Students studying a science or engineering degree are eligible for the Undergraduate Science and Engineering scholarship of 2,000 GBP a year.
UG Psychology International Excellence Scholarship for students in psychology
Faculty of Engineering and Physical Sciences International Undergraduate Excellence Scholarship for students in the respective branch.
2. Laidlaw Scholarships: There are 25 annual Laidlaw Scholarships that provide funding to allow you to develop leadership and research skills through a range of personal development activities
Leeds University Business School awards the following scholarships to students at all levels of studies-
Leeds International Foundation Year (IFY) Scholarships
Sanctuary Scholarship
The Dean's Business School International Excellence Scholarships
3. For Master's Course: Following are the international master's University of Leeds Scholarship available for full-time students in postgraduate courses –
PG School of Psychology International Masters scholarship
Joint Japan/World Bank Graduate Scholarship Program
ESRC White Rose DTP Studentships 2022
SPDC Niger Delta – University of Leeds Postgraduate Scholarship
Scholarship Based on Personal Circumstances
If the household income of a student's family is less than £42,875 a year or the student is from a disadvantaged background, then they are eligible for a scholarship worth 3,000 GBP a year.
Other University of Leeds Scholarship
It includes-
Sports Scholarship: It is for the elite athletes
Sanction Scholarship: It is for the displaced people in the UK
Enterprise Scholarship Scheme: It is for those students who are starting their businesses.
Leeds Masters Scholarships: For students from under-represented groups.
External Scholarships: These are offered by the government or private organisations to international students. Here is a list of a few external scholarships that an international student can apply for:
Chevening Scholarship
Commonwealth Open Awards
Julian Rushton Scholarship
Herbert Thompson Scholarship
Bonamy Dobrée International Postgraduate Scholarship
Bursaries
Leed Bursaries are available for all UK and international students. Students can check the eligibility criteria on the official website of the University of Leeds. It depends on the household income of students. Here is how much fund is provided for the following years of study:
Income
Bursary Granted In Year
Below 25,000 GBP
The Foundation year is 3000 GBP
The First & subsequent year is 2000 GBP
From 25,001 GBP to 30,000 GBP
The Foundation year is 1500 GBP
The First & subsequent year is 1500 GBP
From 30,001 GBP to 36,000 GBP
The Foundation year is 1000 GBP

The First & subsequent year is 1000 GBP
Below 36,001 GBP to 42,875 GBP
The Foundation year is 500 GBP
No bursary is granted for the first & subsequent years
Student Loans
Students can get loans based on their home country and personal needs. The loan covers tuition fees and living expenses. The fees are paid directly to the university and the living cost to students in instalments. The students need to repay the loan once they have graduated and earned over 27,295 GBP per year.
NHS Funding: Students in the following courses can get NHS funding
Funding for Muslim Students: Muslim Shariya law prohibits paying and receiving interest. So, the National Union of Students (NUS) and the Federation of Student Islamic Societies (FOSIS) are working to give financial aid to Muslim students keeping in mind the spiritual laws.
Extra Financial Help
The government and university provide extra financial help that leads to the fee reduction for the academic year. It is for the students who have
Disability: They are eligible to get Disabled Students' Allowance (DSA).
Dependent children: They are eligible to get Childcare Grant and Parents Learning Allowance.
Adult dependants: They are eligible to get an Adult Dependants' Grant.
Financial hardships: They are eligible for Leed Hardship Funds.
Funds Available After You Arrive
The following funds are available for the students studying at the University of Leeds:
Leverhulme Trade Charities Trust
Access Programme Award
Adult Learner Award
Amit Mehta Prize
Crabtree Undergraduate Award
Leeds Cathedral Choral, Conducting and Organ Scholarships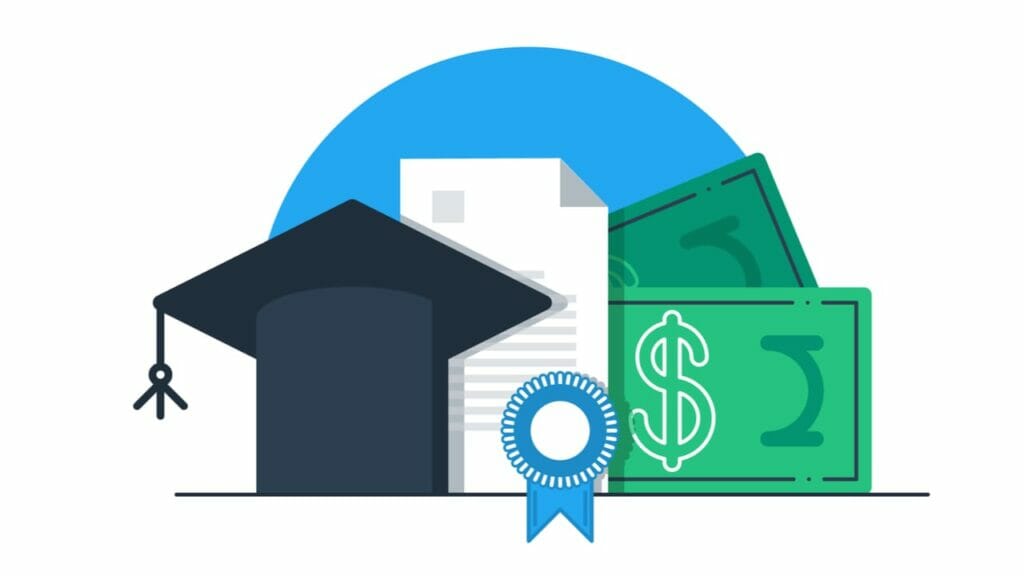 Conclusion
The University of Leeds is known for its excellent learning and research facilities in the field of business, engineering, and marketing. It is among the best universities in England. Although the fee structure and living cost to study there is high for an international student, the university offers financial help to full-time students.
The financial aid includes scholarships, bursaries, student loans, and funds after you arrive. International students can also opt for scholarships from external resources, such as scholarships offered by many government and private organisations. Studying at the University of Leeds can shape your career journey and help you achieve your dream goal.
Fequently Asked Questions
1. What is the deadline to apply for UK undergraduate means-tested scholarships for 2022?
The applications are now open and will close at 11.59 pm on 20 May 2022. Applicants to the university may apply for the means-tested scholarships before receiving an offer from Leeds or must do so before the deadline.
2. What are the eligibility criteria for the Leed Bursaries?
To qualify for the full-time Leeds Bursary, the student must be registered on a full-time, undergraduate, or higher-education course lasting at least one year, for instance:
A degree
Foundation degree
Diploma of higher education (DipHE) or
Certificate of higher education (CertHE)
3: What are the best courses at the University of Leeds for international students?
The university is famous for its master's courses, such as MS, MBA, MA, MSc, or LLM. It also offers the best degree courses in the following specialisations:
Mechanical Engineering
Astronomy
Process Engineering
Civil Engineering
Electrical
Biological Sciences
Computing Sciences
We are sorry that this post was not useful for you!
Let us improve this post!
Tell us how we can improve this post?